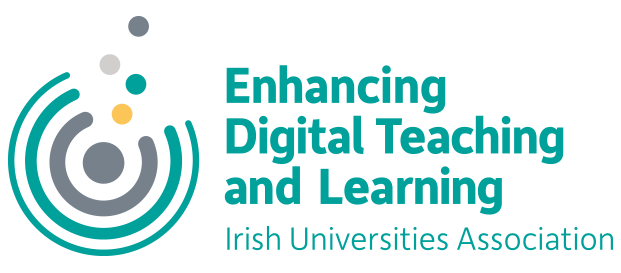 This 3 year project, which is funded through the HEA's Innovation and Transformation Programme, is aimed at enhancing the digital attributes and educational experiences of Irish university students through enabling the mainstreamed and integrated use of digital technologies across the teaching and learning process. The project aims to mainstream digital in teaching and learning activities in Irish Universities, by addressing the professional development of all who teach or support teaching and learning.
Why Digital?
Higher Education is facing a number of challenges that effect teaching and learning. Student numbers are increasing, while the staff/student ratio has decreased. The student population is increasing in diversity and there are demands for increased flexibility in when and how learning opportunities are provided. Digital devices and applications are ubiquitous. To respond to the changes in student population and the increasingly digital environment, educators have to develop their digital skills and adapt to more innovative teaching approaches.
Discipline Focus
The professional development activities emerging from this project will work directly with discipline groups, both intra- and inter-institutional. This means that, rather than working with or building individual technology champions, the needs and goals of a whole group can be addressed, thereby raising the digital skills of the group.
Pedagogy First
At all times, the professional development activities will take a pedagogy first approach, rather than digital skills training. This means starting by identifying the needs and goals of the group before considering how technology could be used to support innovation and change.
The Pilot Phase
The pilot project will run from September to December 2019. The pilot will look different in each institution, based on the existing expertise and resources available, the strategic aims and goals of the institution, the disciplines involved and their needs.
Project Launch
On Thursday 7 November the new IUA Enhancing Digital Teaching and Learning project was launched at the Convention Centre in Dublin.
The launch immediately followed the close of the World Conference on Online Learning.
Steering Committee
Steering Committee
Sharon Flynn
Project Manager for Enhancing Digital Teaching and Learning in Irish Universities, IUA
Lewis Purser
Director of Learning & Teaching and Academic Affairs, IUA
Billy Kelly
Deputy Registrar/Dean of Teaching and Learning, Dublin City University
Theresa Logan-Phelan
eLearning Manager, Academic Practice and eLearning, Trinity College Dublin
Prof. Jason Last
Dean of Students, University College Dublin
Dr Alison Hood
Dean of Teaching and Learning, Maynooth University
Tom O'Mara
Online Learning Project Manager, Office of the Vice-President for Teaching and Learning, University College Cork
Dr Mary Fitzpatrick
Acting Dean, Teaching and Learning, Regional Teaching and Learning Advocate, Centre for Teaching and Learning, University of Limerick
Dr Iain Mac Labhrainn
Director, Centre for Excellence in Learning and Teaching, NUI Galway
Dr Terry Maguire
Director, National Forum for the Enhancement of Teaching and Learning
Dr Jim Murray
Director of Academic Affairs and Deputy CEO, THEA
Kevin McStravock
Vice President for Academic Affairs, USI
Nora Trench Bowles
Policy and Research Officer, IUA
Project Team
Project Team (as of August 2019)
Rob Lowney
Suzanne Stone
Dublin City University
Cliodhna O'Callaghan
University College Cork
Morag Munro
Maynooth University
Marian O'Connor
Mairéad O'Reilly

University College Dublin
Kate Molloy
NUI Galway
Julie Byrne
Kevin O'Connor
David Hamill
Trinity College Dublin
David Moloney
University of Limerick
Vishwajeet Gain
IUA Student Intern
What is the Enhancing Digital in Teaching & Learning Project?
How does the project match university strategic goals?
How does the project benefit students?
How does the project benefit staff?