Universities are pivotal to the supply of high-skills talent and the research and innovation that underpins the knowledge economy. Talent rather than tax is now the nation's calling card. Our universities are at the heart of our regional growth clusters including ICT, bio-pharma, med-tech, agri-food and life sciences. They also foster the cultural creativity of the country.  As public institutions, universities will continue as core stakeholders in the future social, economic and cultural development of Ireland.
Among our member universities the oldest is Trinity College Dublin, founded in 1592 and the newest is Technological University Dublin established in 2019. The majority of our universities have University of Sanctuary status and are ranked in the top 500 universities worldwide. For information on each of our member universities visit their individual university profiles or see the history of the universities in our university timeline.
The Irish universities are internationally recognised for quality in education, research and the overall student experience – a recognition they relentlessly strive to enhance. Irish universities offer a diverse range of courses at both undergraduate and postgraduate levels, and a top quality education recognised internationally. Over the coming years the universities will be strengthening their offer, aligning existing activities and implementing new strategies in reference to the government's National Higher Education Strategy.
---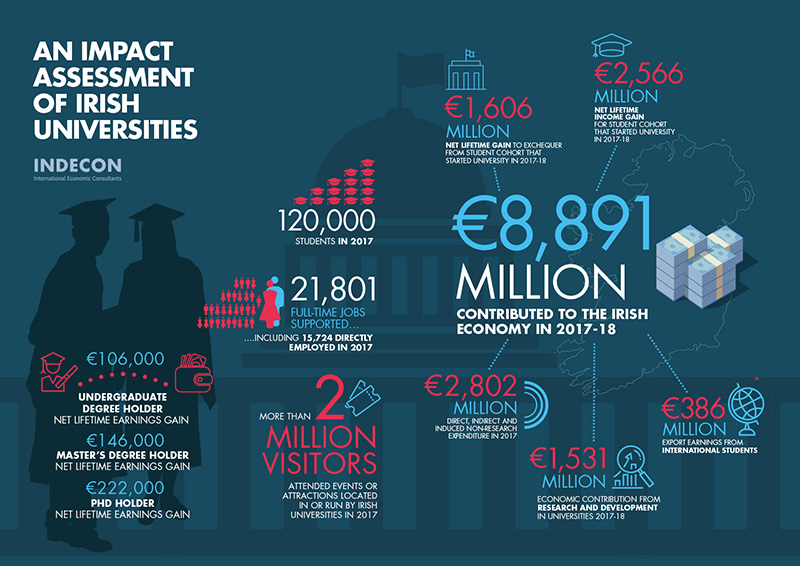 Our Impact
Universities not only feed the talent pipeline they are innovative hotspots nurturing creativity and critical thinking. An independent study commissioned by the IUA and conducted by economists Indecon – Delivering for Ireland: An Impact Assessment of Irish Universities – assembled a broad range of information from the universities and public bodies such as the Higher Education Authority (HEA), the Central Statistics Office, the Department of Education and others. Their findings show the significant contribution and impact of universities both economically and in our society.
---