This morning in Beijing Professor Philip Nolan, President of Maynooth University and incoming Chair of IUA, signed a cooperation agreement with the China Education Association for International Exchange. The agreement will develop a joint working group involving the following areas; Information sharing, staff and student exchange, staff development, researcher exchange program, University management  and a Chinese universities exhibition in Ireland. The cooperation agreement also allows for mutual recognition of qualifications.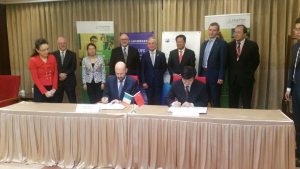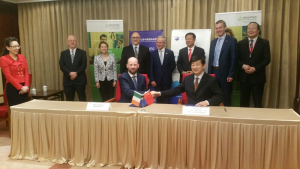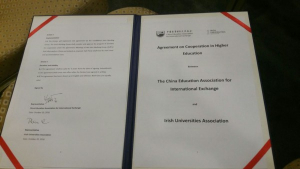 ends.
Also….
Enterprise Ireland education mission to China
 30 Memorandums of Understanding signed between Irish and Chinese Higher Education Institutes
Ireland holds role of "Country of Honour" 2016 at China Education Expo
Enterprise Ireland's 'Education in Ireland' mission to China continues today (26th October 2016).
Senior representatives of 19 Irish Higher Education Institutions are participating in a week-long mission which was led by Richard Bruton T.D. Minister for Education and Skills, during the opening days in Beijing. The mission continues across a further three cities in China; Wuhan, Guangzhou and Shanghai and concludes on Sunday 30th Oct.
Addressing the China Education Association for International Exchange at the China National Convention Centre where Ireland was recognised as this year's "Country of Honour" Minister Bruton said; "This education mission is part of the Department of Education and Skills plans to add €500million to the annual value of the international education system by 2020, and to double the numbers of Chinese students studying in Ireland in the next five years".
While in China the Minister took part in a series of meetings and events, including a meeting with the Chinese Vice Minister for Education.
The number of Chinese students coming to Ireland has grown by an average of 17% in the last two years, and there are now over 3,300 Chinese students in Irish higher education institutes with a further 2,400 studying on Irish programmes in institutions in China.
Enterprise Ireland's 'Education in Ireland' team hosted the second annual Ireland-China Higher Education Forum in Beijing and 30 Memorandums of Understanding were signed between Irish and Chinese higher education institutes.
Giles O'Neill, Head of Education in Ireland said, "progress over the last two years has been immense, with our teams in Ireland and China, the Embassy and our higher education institutes working together to deliver on an agreed plan. We have more Chinese students studying in Ireland than ever before, and more successful joint programmes. We are well positioned to increase student and staff mobility, and importantly, we have committed teams within our universities and colleges to make this happen.
The Education Mission also included a number of events to showcase Irish culture including a performance by Irish dancing group Meitheal, supported by Culture Ireland, at the opening ceremony for the 17th China Annual Conference for International Education, and at the opening of the Ireland pavilion on Saturday 3rd October 2016 in Beijing.
ENDS
For more information contact: Grace Labanyi, Enterprise Ireland 00353(0)17272820
Further information:
CEAIE: The China Education Association for International Exchange (CEAIE) is a not-for-profit organisation which focuses on international educational exchanges and cooperation. Many universities, colleges, research institutions and middle schools in China are members of the CEAIE, and the CEAIE assists them in finding opportunities for international cooperation projects.
The China Education Expo has become the most prominent education fair in China, attracting a substantial number of top education providers, as well as a significant volume of student visitors. The fair is run in four cities; Beijing, Shanghai, Chengdu and Guangzhou. In 2015 over 27,000 visitors attended the Beijing fair, over two days and over 20,000 visited the Shanghai fair.
This year Enterprise Ireland, under the 'Education in Ireland' brand is taking a national stand to strengthen Ireland's presence in the market and to support the 19 HEIs exhibiting, who will exhibit both in Beijing and Shanghai. Education in Ireland will also have a presence in Guangzhou.