No real progress on closing the core funding gap
The government has done very little to address the growing crisis in third level funding in Budget 2019. The allocation of €57m million in 'extra' funding on top of existing commitments on national pay increases, while welcome, only allows the system to tread water. The bulk of the money is ring-fenced for specific purposes and does not deal with the core funding gap. The promise of a Human Capital Initiative Fund in two years' time does nothing to address the current funding shortfall.
State funding per student remains virtually unchanged as the small allocation of extra funds is mopped up by increasing student numbers. State funding per third level student in Ireland at €5,000 is a fraction of that in Germany, Norway, the Netherlands, Sweden and Finland, countries with whom we are in competition for investment.
Jim Miley, Director General of the Irish Universities Association said: "It is a serious cause of concern that the government has not prioritised the education of the future workforce of the country. Third level funding is critical to generating the talent pool for the economy. Our future economic competitiveness will be eroded if the public funding deficit is not addressed.
It's patent nonsense for the Minister to continue to talk about having the 'best education system in Europe by 2026' while presiding over a funding regime that only provides a fraction of the funding per student of those best countries in Europe."
There's nothing in the Budget to address the major facilities upgrade that's required in Irish universities. A funding requirement of at least €104 million in 2019 was proposed by the Irish Universities Association as part of a 5-year University Capital Refurbishment Programme after a decade of neglect. Students cannot be expected to perform at their best in sub-standard facilities.
The idea of a skills and talent-focused initiative such as the Human Capital Fund announced in the Budget is welcomed by universities. However, this amounts to no more than a future promise and does nothing to address the needs of the quarter of a million strong student population in our third level system.
The Budget represents a missed opportunity to deal with the long-accepted crisis in third level funding and to act on the recommendations of the Cassells Report for meaningful funding reform.
Ends
For further information, contact:
Lia O'Sullivan, Head of Communications lia.osullivan@iua.ie; 085 7141414, 01 6764948
State Funding per Student European Comparators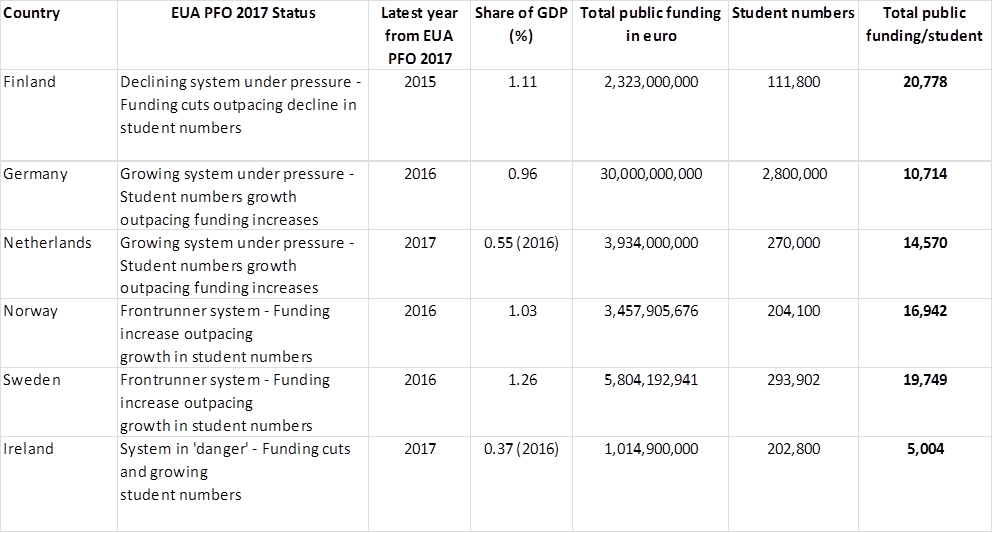 NOTE: The funding per student figure for Ireland in 2019 is unlikely to change significantly as any extra money will be absorbed by the extra students entering the system.