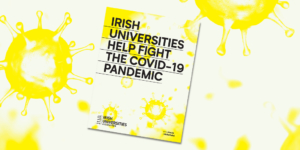 6th May 2020 – Today the Irish Universities Association is launching its publication 'Irish Universities Help Fight The COVID-19 Pandemic' which details how the sector has galvanised into immediate action, contributing to the national emergency response in every way possible as the pandemic developed.
Across eight key areas the seven Irish universities, their staff and students are working to play their part in Ireland's response to coronavirus. The eight key areas of activity are:
Expert advice with staff and students on the frontline
COVID-19 testing and contact tracing
COVID-19 research and innovation
Specialty equipment and training
Facilities and field hospital spaces
Supports to students
Volunteering, fundraising and assisting local communities
Informed communication to the public
The report available here details numerous examples from each of the seven universities on how they are providing supports, expertise, equipment and resources across the above eight areas.
Speaking about the universities contribution, Jim Miley, Director General of the Irish Universities Association said: "As with many other sectors, Ireland's universities are playing an influential role in fighting the COVID-19 pandemic. This is in parallel with their teaching and exams management of thousands of students around the country. Across a wide range of disciplines, our universities and their staff and students have, and are, making a hugely valuable contribution to the national efforts to fight the COVID-19 pandemic."
Ends 
For media queries please contact:
 Lia O'Sullivan, Head of Communications, IUA lia.osullivan@iua.ie. 085 7141414
IUA is the representative body for Dublin City University, NUI Galway, Maynooth University, Trinity College Dublin, University College Cork, University College Dublin and University of Limerick.