Race Equality Principles for Irish Higher Education
Recent years have seen significant changes across Irish HE, a notable feature of which has been the  growing ethnic diversity in both university student and staff populations. Against this background, the HEA conducted a National Race Equality Survey of staff in higher education institutions in 2021, and one of the key findings from the survey was the evidence of a consensus across higher education staff that race inequality exists in the Irish higher education system.
Subsequent to the survey report, IUA universities worked with the HEA on the development and publication of a race equality implementation plan in September 2022. The plan aims to advance race equality work across the sector, and one of the key actions included in implementation plan is the development of a national statement of Anti Racism Principles higher education institutions.
Let's Talk about Race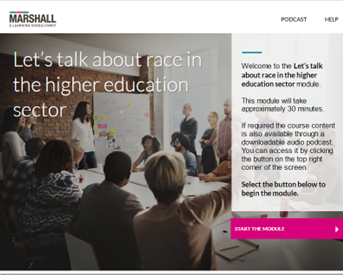 IUA universities have collaborated to develop an online race equality awareness programme entitled Let's Talk About Race. The core objective of the programme, which was launched in the sector in October 2021 is to improve our levels of awareness and understanding of racism and how it manifests itself in the Higher Education sector. This is a necessary first step in equipping us all to take on our individual and collective responsibility to combat racism.
The programme can be accessed by staff and students through your own institutions web pages.
IUA's Head of Equality, Diversity & Inclusion is Tony McMahon