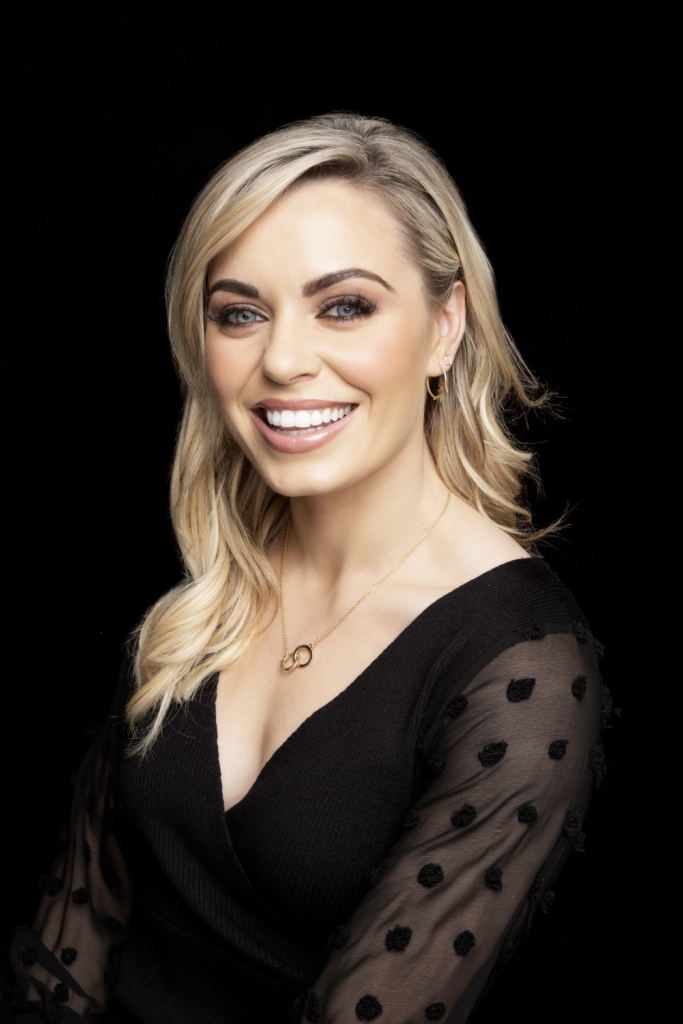 Anna Geary is a Radio and TV Broadcaster and Performance and Lifestyle Coach. She is a qualified Personal Trainer and the former All Ireland winning Camogie Captain is well known for her successful career on the pitch and also as a former Cork Rose in 2014. Anna has won over 20 All Ireland medals during her illustrious sporting career, including 7 senior All Irelands medals with Cork and her club, Milford. In addition to her sporting career, Anna has seven years' experience in the corporate world working for large companies. A popular MC, Anna has hosted a number of key events including the Ireland Active National Conference, the International Women's Business Conference, The Irish Construction Awards, The BIFM Awards and Zeminar.
Anna previously presented Pumped Up Kicks on Today FM with Declan Pierce on Saturday's from 2pm- 6pm. The show brought listeners the most up to date sports results from home and abroad with interviews and craic from players and fans all wrapped up with the best music around. Previously, Anna presented The Sunday Show with Anna Geary on Cork's Red FM. Prior to hosting the Sunday Show, Anna previously presented the Saturday Breakfast Show. Anna was a regular panellist on the sports round up on Monday on the Sean O'Rourke Show on RTÉ Radio One.
Anna was previously a Guest Columnist with The Irish Examiner where she wrote a weekly lifestyle column in the 'Feelgood' supplement every Friday. In 2018, Anna was a finalist on RTÉ One's hugely popular Dancing with the Stars where she took to the dancefloor every Sunday night to showcase her skills. Anna performed a variety of dances from the Tango to the Paso Doble.
Since retiring from camogie, the Cork native has regularly featured on TV and Radio. She is a Coach on RTÉ One's Ireland's Fittest Family and in 2016 and 2018 she was the winning Coach. She was previously the face of a weekly health and fitness slot for RTÉ One's Today show. She was previously a Sky Sports Living Sport Athlete Mentor. Additionally, Anna was the Pitchside Presenter for Eir Sports Live weekly sport programme 2019 Allianz League Games. She was also the Pitchside Presenter for the 2018 Allianz League Games. On Wednesday evenings, Anna presented Eir sports' weekly highlights show Allianz Leagues Reloaded. She also presented Eir's midweek Allianz League Review Show on Wednesday evenings from 8pm-9pm with Senan Connell where they dissected the previous week's performances.
Also, on RTÉ she presented the documentary Fire in the Blood, guest presented Big Week on The Farm and featured on the popular health show Operation Transformation as a mentor. Separately on Virgin Media One, she had a sports segment on The Six O Clock Show which she also guest presented on a number of occasions. Anna also features on the Irish Independent's weekly sports podcast called The Throw In. She has taken part in Karl Henry's 'Real Health Podcast'.
As a founding member of the Women's Gaelic Players Association Anna is an advocate for reforming public perceptions of female athletes and for breaking down barriers surrounding women in leadership roles across society. Having won numerous prestigious awards during her career including 4 All Stars, Anna was chosen to receive a coveted 'Contribution of Society' award from the University of Limerick Alumni of which only 29 have been awarded in 10 years.
She worked with SuperValu for Wellfest 2018 and she was a Brand Ambassador for their Good Food Karma Project to get Ireland cooking.
Anna was a Littlewoods Ireland Style Ambassador, where she took part in campaigns such as V By Very Winter, a GAA shoot, shot at Lough Dan in Co Wicklow. Anna is currently a Brand Ambassador for the jewellery line, Cristallo di Milano.
Anna is a qualified Executive and Life Coach with a focus on the Performance space. Anna also has a keen interest in the areas of Leadership and Motivation. She currently works with a variety of companies, teams and on a one-to-one basis. Anna specialises in designing workshops for clients of all different backgrounds, ages and needs. She regularly speaks at events on topics including Self- Motivation, Transferable Life Skills, Change, Energy Management, Creating a Culture, Resilience, Self- Care and Relationship Management. She spoke at Wellfest Festival 2017 on the topic of 'Progress not Perfection'. Anna also spoke at Wellfest Festival 2018 in Cork's Fitzgerald Park about balance and resilience.
Anna is a young, energetic speaker who engages, empowers and inspires audiences. She is a Business Graduate of The University of Limerick (2009) with a Post Graduate Diploma in Public Relations, Communication and also holds qualifications in Leadership, Ethics and Life Coaching. She initially started her career in the IT industry and has honed her skills in areas of Sales, HR, Public Relations and Marketing, before changing career paths to focus on Media and Coaching full time. Her passions lie in Health and Fitness, Sport, Mindfulness, Food, Travel and Irish Culture.