It is hard to believe that we are already into week five and starting our second week of internships. Aedín and I are extremely delighted to be working in the Taihe Institute, an international think tank which focuses specifically in areas such as people-to-people exchange, international politics, religion, science and technology, education, culture, finance and economics. Having just finished my undergraduate degree in Social Work and about to begin a Masters in International Relations, I felt that this internship was a great opportunity and would be able to provide me with a good grounding before beginning my Masters.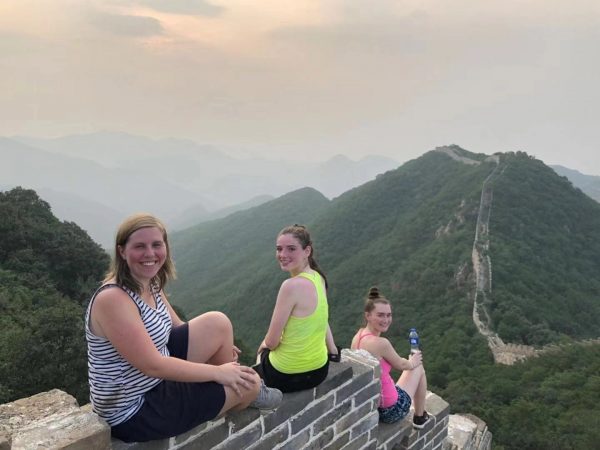 Monday
On Monday I returned to work after an exciting weekend camping on the Great Wall with Jess, Sheena and Jack. We had an amazing time hiking up to the wall and camping alongside another 10 adventure-seekers from around the world. Although I was tired from the hiking and step-climbing, it was nice to settle back into the internship after the weekend's break.
Our supervisor, Alicia, asked Aedín and I to prepare a presentation on 'How to Write a Business Email in English' which we would present to staff in the Taihe Institute on Friday. We spent Monday researching how to write a good business email, which was also useful for myself, as I had never before looked at what merited as a good professional email. I also learned the cultural differences and how to use the correct tone when emailing in a professional sense.
Tuesday
Tuesday comprised of collecting news for the weekly report on worldwide government regulations on 'ride-hailing' and 'autonomous vehicles'. This required Aedín and I to research recent news regarding regulations on ride-hailing and autonomous vehicles and devise a report, which would be translated and published in Chinese. It was really interesting work and allowed me to think more about the continuous improvement of technology which affects our daily lives.
For lunch we had rice, meat and vegetables which were prepared in the industrial kitchen onsite. This 'work lunch' is held every Tuesday in the office and provided a good chance for us to bond with our fellow workers as we ate our lunch on the rooftop-terrace in the sun.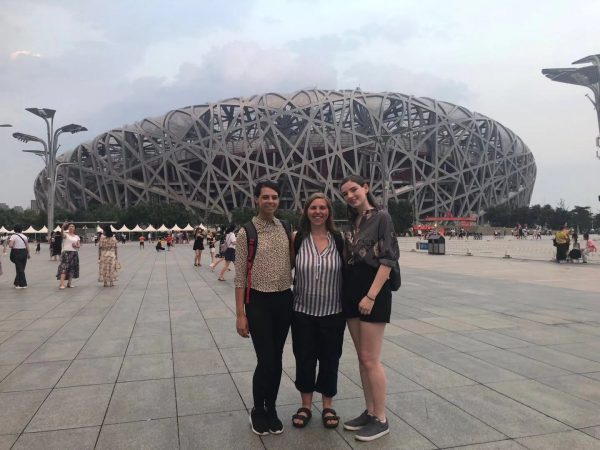 After work, we ventured to the Olympic Park where we saw the architectural wonders of the Bird's Nest Arena and the Water Cube. It was such an amazing sight as the park became illuminated as it got dark. We enjoyed strolling around the park and watching the changing colours of the Water Cube, the bright red lights of the Bird's Nest and the countdown timer, counting down the seconds until the 2022 Beijing Winter Olympic Games.
Wednesday
On Wednesday we continued researching government regulations on ride-hailing and autonomous vehicles and preparing our presentation on how to write a business email. We created a PowerPoint where we included emails written by ourselves with common mistakes followed by how to write 'the perfect business email'.
Afterwards, Sheena and I took a bus to Jingshan Park, which backs up to the northern edge of the Forbidden City. We arrived at sunset and were amazed at the panoramic view on top of the park's hill where we could see the Forbidden City, Beihai Park and the Olympic Park amongst other buildings and sights. We enjoyed relaxing on the hilltop and taking in the views as the city became surrounded in darkness. It really hit home how fast the time was passing by and what other sights there were to see in Beijing. I am conscious that with just over three weeks remaining, there are still many other things to do and see before I leave Beijing.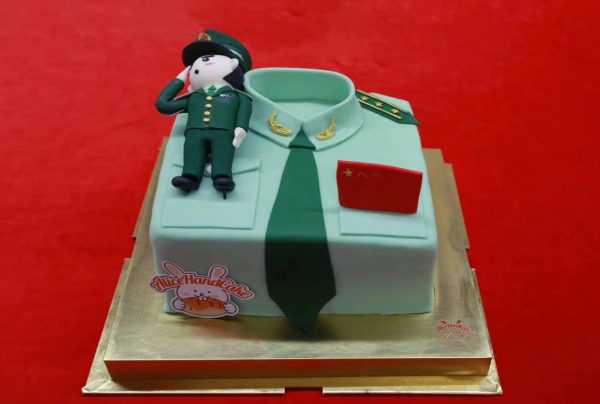 Thursday
On Thursday we started working on our second video to send to the children in Honghe county, Yunnan. We recorded ourselves telling the children where we came from and our likes and dislikes. Our colleagues also got involved and were excited to be part of our project.
After lunch we congregated with the staff from the office to celebrate 'Army Day' and the formation of the People's Liberation Army of China, which was established 92 years ago, on 1st August 1927. There was a cake in the shape of an army shirt to celebrate, which we happily ate with our fellow colleagues.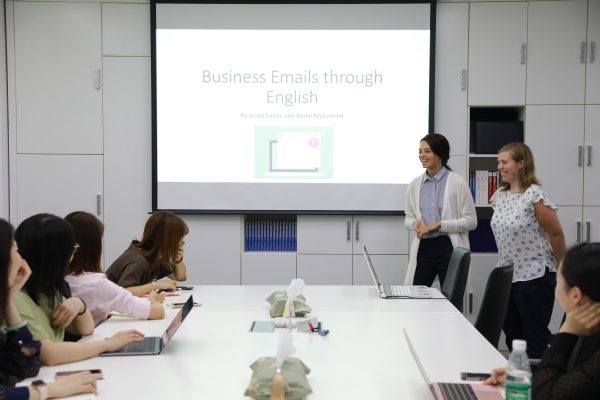 Friday
On Friday we gave our presentation regarding how to write emails in a professional manner similar to a native speaker. I was nervous at first as we were presenting in front of 20 business people. However, they were all very warm and interested and immediately put us at ease. We covered aspects such as grammar, tense, punctuation, as well as tone, empathy and how to establish a solid professional relationship. We received great feedback from the group and our colleagues and were happy to have contributed something to the staff at Taihe Institute.
After work, we planned to go to Beijing South Station to board the 12-hour train to Shanghai at 7pm. At 5pm we realised that we were meant to go to a different railway station, however two of the girls had already left to go to Beijing South and ended up missing the train. It was bittersweet as I was excited to be heading out of Beijing for the weekend, however disappointed that we were without two of our friends.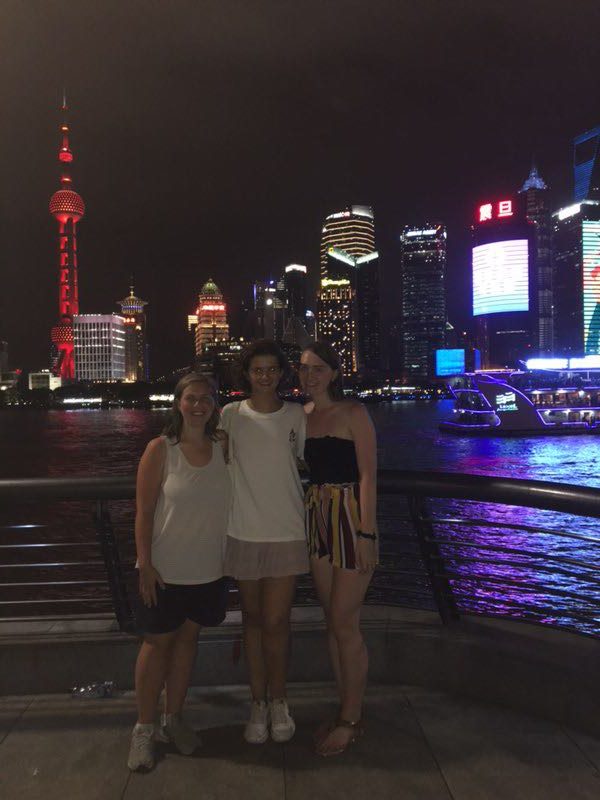 The Weekend
Jess and I arrived in Shanghai at 7.26am. After navigating the transport system, we dropped our bags into our hostel and set off to explore the city. We walked down Nanjing Road (Shanghai's premier shopping street) and along the Bund where we saw the magnificent skyline of Shanghai. We visited Yu Garden and wandered around the Yu Garden shopping streets, which were abundant with tourists. We then headed over to the financial district on the other side of the river and took a sightseeing bus where we marvelled and the height of the soaring buildings and towers above us. In the evening we met up with Niamh, who had arrived in Shanghai the previous day, and we all set sail on a cruise along the Huangpu River. This was definitely the highlight of the weekend. We saw the buildings lit up in the night on both sides of the river, which had a completely different atmosphere from the daytime. On Sunday we strolled around the People's Park, which was directly beside our hostel. We also visited the Shanghai History museum, which had a lovely rooftop view of the city and the park. After exploring the shopping street and visiting the Bund for the final time, we took the high-speed train home. This high-speed train only took 4.5 hours, which felt like a luxury compared to the 12-hour train journey we had taken overnight to Shanghai.
Conclusion

I cannot believe that we are already over halfway through the programme. I have really enjoyed my internship so far and am looking forward to the next three weeks of working and exploring more of Beijing and China. We are beginning to feel at home in Taihe Institute and are bonding with our colleagues, who have been very friendly and accommodating, offering to show us around various districts in Beijing and take us out to bars in the city.
As a group, we have tried to make best use of our time in order to see the all the sights in Beijing. With last minute trips to Beihai Park to take a boat on the lake, to visiting the Olympic Grounds and Jingshan Park, there is still so much to experience with this great group of people before leaving this incredible city.