Monday:
I started off my sixth week in Beijing at my internship placement on an early Monday morning. I was lucky enough to be spending five weeks working at WWF's Beijing office, which is a leading global organisation related to both my own personal passions and upcoming master's degree. This September, I will be starting my MSc in 'Climate Change: Policy, Media and Society' in Dublin City University (DCU) so I was glad to be working in a conservation-based organisation. WWF (World Wide Fund for Nature) is a company that I have always admired, not only for their conservation work with species and habitats but also for their extreme efforts towards the reversal of environmental degradation. A typical working day for me includes a broad array of proof reading and polishing reports and presentations, researching relevant and upcoming organisations, and data analysis on various approaching projects and future plans for the company.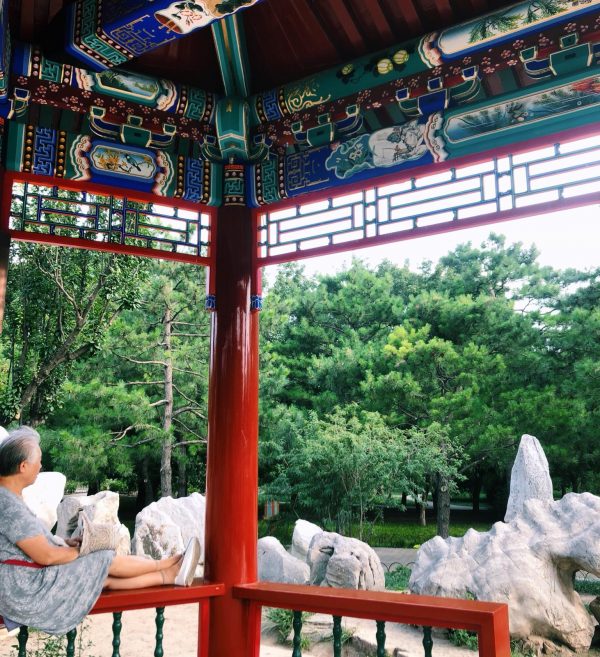 I finished work at 5:30 and decided to visit Ritan Park. Conveniently, this was just a short subway journey away which layhidden in the heart of Beijing's business district. With surprisingly few visitors, the park turned out to be a calming oasis in contrast to the busy Beijing that I had become so accustomed to. Amidst the beautifully kept gardens were Chinese opera singers, couples practising Chinese dance and locals performing tai chi and martial arts. My experience at Ritan park was enjoyable as I found it to be less of a tourist destination and more of a scenic escape to observe and chat with locals. As a city girl at heart, it was unusual for me to find such tranquillity in the rare moment of quiet that I had somehow stumbled across. I ended up spending several hours there, wandering around the different flower gardens and intertwined lakes. I would highly recommend a stroll through Ritan Park to all those looking to escape an eventful Monday or to simply experience a less documented side to the city's stereotypical portrayal in media.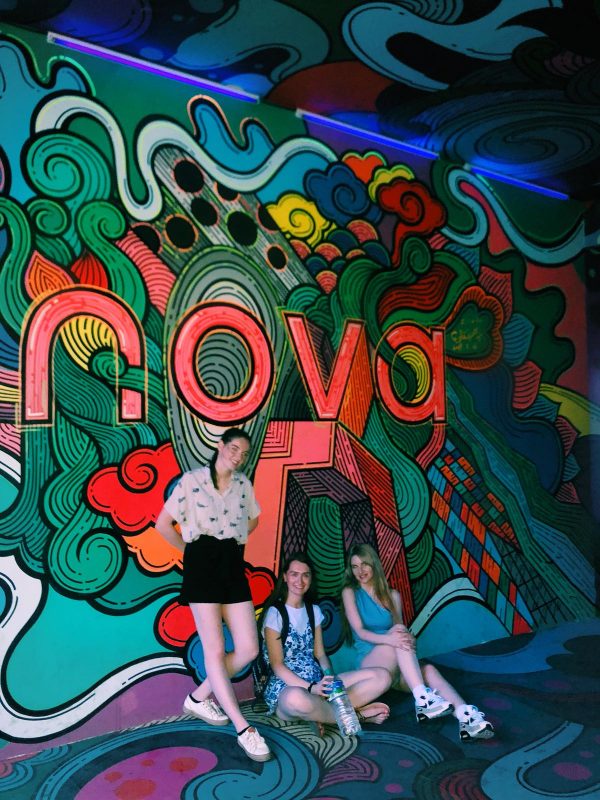 Tuesday:
Art District 798 has been my main highlight from my time in Beijing so far. As a city with such a profound history, I was eager to discover a more modern and contemporary side to life here in contrast to the evident tradition that actively remains. After work, I headed to what was once a simple industrial park and arrived in what has been transformed into a sizeable and trendy Art District with various exhibition centre's for modern and contemporary Chinese art. The surrounding area also housed many galleries, bookshops and quirky cafes that added to the overall cultured and youthful energy. I was spoilt for choice so after much deliberation, I chose to sit and relax in a quaint Persian style café before exploring the many openings and art centres. The exhibition that impressed me most was "Dreamland Art Center," which housed abstract and interactive pieces based on the most perfect of lively and colourful dreams. The vibrant street art also made a prominent impression upon me as it was found in the most unlikely of places.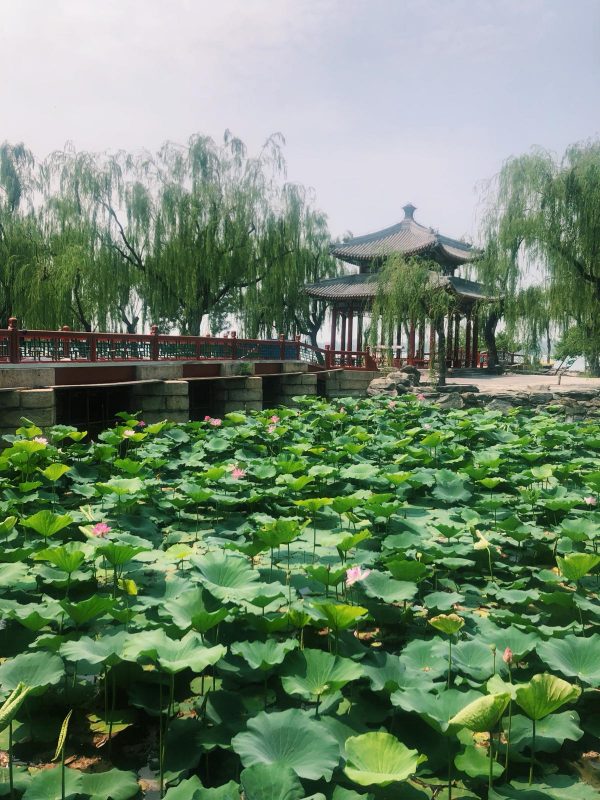 Wednesday:
Wednesday comprised of an ambitious visit to both the Lama Temple and BeiHai Park. A group of us met outside Lama Temple after work and purchased our tickets. We walked through the burning smoke from the incense towards the beautiful sets of complex temples with varying Buddhas. As we reached the last set, we were blown away as we gazed upwards only to discover an impressive fifty-four-foot high Buddha carved from a piece of Tibetan sandalwood. On our way out we noticed all the things going on around us, including the intricate architectural details and the swarms of locals praying and worshipping at different areas of the Temple. After we left the Temple we decided to journey to the centre of Beijing to visit BeiHai Park where we arrived in the late evening. BeiHai Park is one of the oldest and best-preserved ancient imperial gardens in China. We spent several hours wandering and observing the many activities practised and performed by the locals along with the many independent gardens within. It was a pleasant way to spend a midweek evening before heading home for a good night's rest in preparation for another early start.
Thursday:
As our trip is slowly approaching the end, a group of us decided to visit Silk Market in hope of finding thoughtful gifts for friends and family at home. We met up after work and made our way to the market which is conveniently located on Silk Street. As a self-confessed shopaholic, I was very excited to experience haggling for the very first time. The six-story market was filled with counterfeit designer brands and because it is also a popular tourist destination, it was incredibly busy and somewhat tourist friendly. We were all overwhelmed with the sheer amounts of clothing, shoes, souvenirs, jewellery, electronics, custom calligraphy and fabrics and silks. As it is one of the largest fake markets in China, it is the perfect place to sharpen your haggling skills and to earn some great bargains at relatively low prices. However, I would describe the market as more of a place to visit for fun rather than for any serious buying experience. I found the bargaining to be intense so ended up getting so over-whelmed that I lost sight of my initial purpose for being there. My original goal was to buy my family and friends presents yet I somehow ended up buying a bronze Ganesh carving, a "Gucci" handbag and a pair of Nike Airmax for myself. Although not quite successful, I thoroughly enjoyed my experience there and will most likely be making another appearance before I leave.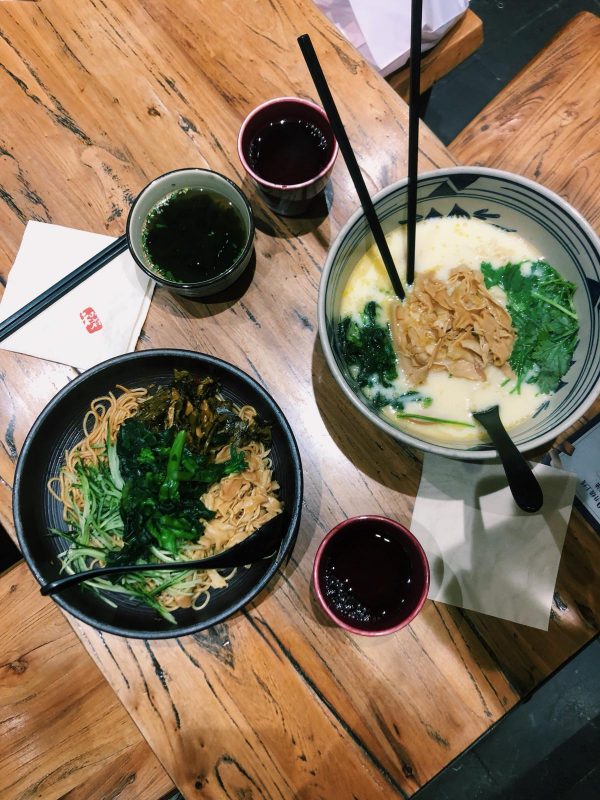 Friday:
I was glad to hear that Friday at WWF was "Panda day." "Panda day" takes place every few months and allows all staff andinterns to work from home. This meant that I was able to spend the morning in a café on BNU campus completing my work before heading out and finally being able to visit the Forbidden City. I travelled by bus which was a convenient and relatively short journey. After a rigorous security check, I entered the Forbidden City and was undeniably astonished by the ancient home of a long line of emperors. The imperial place which was no doubt the political heart of China was an elegant complex filled with intricate architectural designs, beautiful courtyards and memorable halls. The palace held 800 buildings including my favourite part of the Forbidden City, which was the Imperial Gardens. The Imperial Gardens were built with the purpose of having a sacred space for the Emperors. This particular area made a lasting impression upon me and was located just outside of the Gate of Terrestrial Tranquillity. The overall appearance was quite traditional in the sense that it can be recognised as a typical Chinese garden design and also incorporated a great amount of detail in such a small space. Symbols of good luck and fortune are evident in the garden as the footpaths are paved with varying coloured stones and pebbles. After making my way through the Forbidden City, the garden's greenery and centuries old trees made for a welcoming retreat from the crowds of tourists and locals.
The weekend:  
Niamh and I had decided to buy train tickets to visit Suzhou for a short weekend away. Suzhou is one of China's cultural and historical capitals and is a city just west of Shanghai. We arrived at Beijing South railway station early Saturday morning to collect our tickets. With several hours to pass on the train, I finally had some time to reflect on the week passed. What surprised me most about my time in Beijing was the emerging art districts and nature preserves that lay hidden amongst the political and cultural centre of the city. This week in particular allowed me to experience both a modern and traditional China that gave me a better understanding and appreciation for the city's entirety.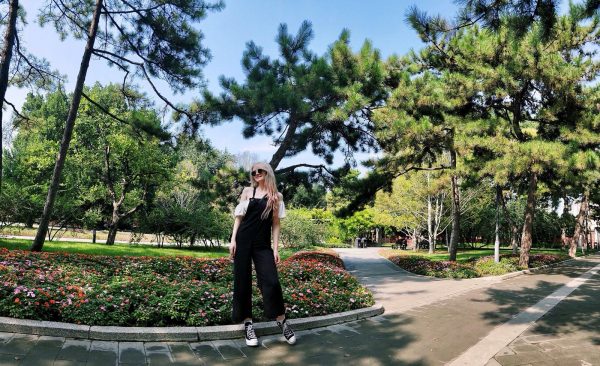 I woke up from the train journey refreshed and glad to be welcomed by all the friendly locals. By far my favourite part of ourweekend in Suzhou was discovering the Lion Forest Garden. The garden was filled with a vibrant history, rock formations and countless water lilies. The series of mazes were both charming and impressive, and added to an overall beautiful experience. We then decided to explore the Old Town which comprised of shopping streets and canals. It was ideal for wandering and taking in our new surroundings. The Old Town is an ancient beauty and is what I imagine China to be like before cars and motorbikes had taken over. As a destination that has been romanticised for centuries, it has been said that "Up above, there is heaven, down here there is Suzhou and Hangzhou." This Chinese proverb translated from "上有天堂,下有蘇杭"  has been used to describe both of these two cities and in no way is overstated. After a short weekend spent here, I now understand how true the statement really is and how easily one can describe Suzhou as a heaven on earth.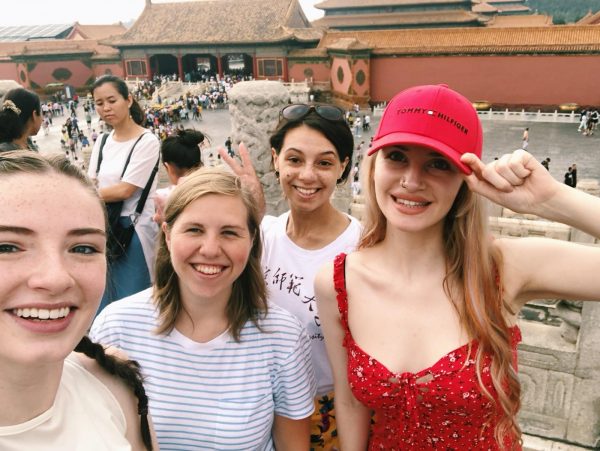 Final reflections:
I want to end my blog by thanking the IUA, CEAIE, and all the wonderful friends that I've made from my time here. Personally, and professionally, the summer programme has been an unforgettable experience that has enhanced my skills and previous experience. From my short time in Beijing, I have gained invaluable life experience and an incredible awareness of Beijing's vast cultural heritage. My summer here has also provided me with personal fulfilment and academic rewards for my future career prospects. Both IUA and CEAIE have allowed me to immerse myself in my own personal fascination with Chinese culture and traditions and has also allowed me to develop a passion for the expansion of cultural understanding, internationalisation and communication. Exploring all parts of Beijing with the friends that I have made here has made the journey so special for me and is something that I am forever grateful for.