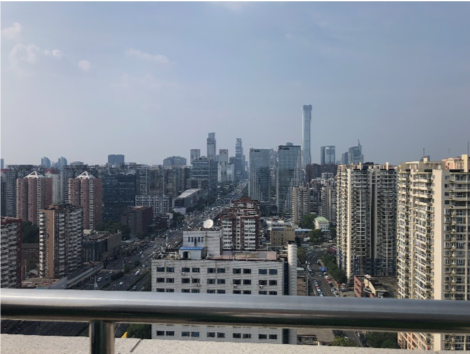 Monday 22 July 2019
After three weeks of a packed schedule and intensive language learning at Beijing Normal University, we're all breaking away to start out internship placements. I was delighted to be doing my placement alongside Jenny at Taihe Institute which is an international think tank focusing on both domestic and international issues such as religion, science, technology, international politics and climate change which present challenges to modern society. I found this placement to be perfect for me as I will be graduating with a masters in International Relations this November and Taihe Institute is a great platform to begin my future career.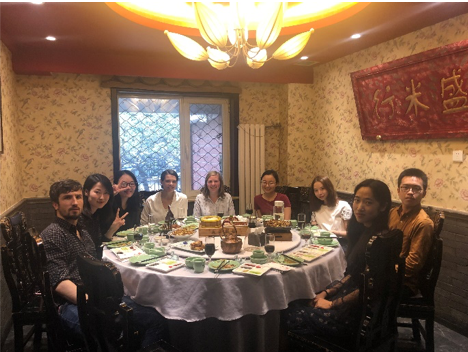 On day one, Jenny and I are up bright and early and out the door at 7:30 to catch a bus to the subway. The subway ride takes about half an hour and we arrive to start work at nine and finish at half five. When we arrived, we were introduced to the staff who were very kind in showing us around the office and explaining what they expect from us over the next five weeks. The office is fabulous and sits on the twenty-third floor with a cool rooftop garden where the office regularly hosts staff barbeques. From the rooftop garden there's a beautiful view of the Beijing.
Jenny and I were fortunate enough to be given our own desks opposite each other so we can collaborate on our projects. Our main tasks for today were proofreading and editing materials and invitations which will be used and distributed to global experts and leaders for the third annual 'Taihe Civilizations Forum' which takes place this September. I found this work extremely interesting as we were dealing with modern up-to-date issues such as the "Belt and Road" initiative and the challenges that come with implanting such a huge initiative. For lunch, myself, Jenny and the other interns were treated to delicious Chinese food including Beijing duck by the staff where we got to know more about each other and build friendships with the people we will be working with. Overall it was a brilliant first day and introduction to our internship.
Tuesday 23 July 2019
This morning started off with more proofreading in preparation for the Civilization Forum event in September. We have also been busy preparing a presentation about the European education system as well as Ireland – China relations and exchanges which we will present tomorrow morning to a group of graduates from Xiamen University. We were extremely lucky to sit in on a speech given by the Assistant Minister of Foreign Affairs of the PRC, Wu Huilong.
You can really notice the different pace when transitioning from student life to work life. Jenny are I are usually home around 19:00 every evening and already feel exhausted. But myself and the other participants all make an effort to meet up for dinner every evening to catch up and talk about our experiences at work.
Wednesday 24 July 2019
I really pushed myself in the morning to converse in Mandarin with some of my co-workers. Even though I have been studying Chinese for a few years now, conversing in a language that is so different from your mother tongue can be awkward, daunting, full of embarrassing mispronunciations and stutters. Regardless, I found that my attempt was greatly appreciated and it really helped break the ice with a few co-workers I didn't have the opportunity to speak with! They've even offered to teach me new words and allowed me to practice with them whenever I like. The three weeks at Beijing Normal University really gave me the boost of confidence I needed to integrate better into my workplace.
Today, Taihe Institute received undergraduate and graduate students from Xiamen University where they will be given a presentation all about the Institute. We spent most of our morning preparing our presentation and discussing ideas and topics to cover. We were lucky to sit in and talk with the students about their thoughts on Ireland as a possible location for them to continue their studies. It truly was a great opportunity to engage the students and have an open discussion and hopefully we made Ireland a more attractive destination to visit!
Thursday 25 July 2019
When we arrived at the office today, we were given delicious treats as a present left by the Xiamen students yesterday! It was definitely one of the nicest ways to start the work day. One of our supervisors, Alicia asked us to assist in updating the company's presence on social media and proofreading any posts before they are updated.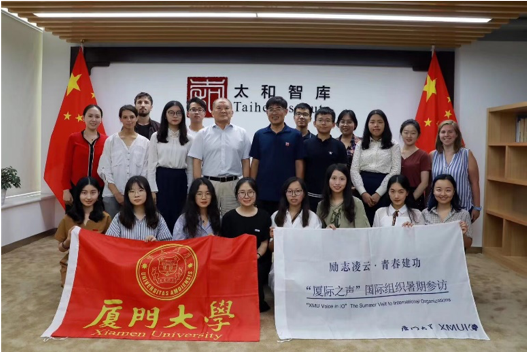 After lunch, Jenny and I spoke to Ms. Liu about the wonderful 'BAIREN BENEVOLENT FOUNDATION' volunteer programme which is under the Taihe Institute. A part of this programme facilitates educational material to the children of Honghe country who are of Hani nationality. Jenny and I got the opportunity to assist in the content of this programme by creating short English teaching videos. We've set ourselves the task of creating a few short videos each week starting with episode one which introduces ourselves and the other IUA scholarship participants!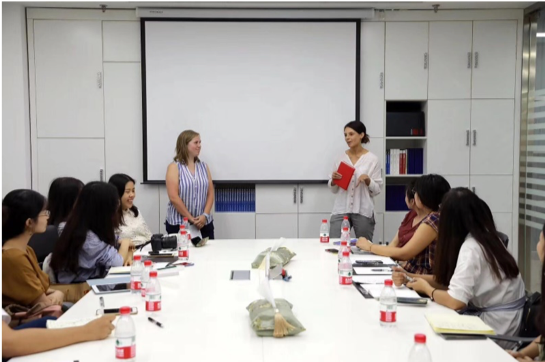 Friday 26 July 2019
Friday was a calm day at work. Jenny and I went to lunch with two Chinese colleagues which was great because they helped us practice our Chinese with them and thought us some local slang! After lunch we continued to edit our video for the volunteer programme and brainstormed future content we could use.
It was another participants birthday this day so we all met up and had a mean and some drinks in Wudaokou; a cool district where lots of university students hang out during the weekends. It was great to catch up with everyone else and hear how all the other internships were going.  It's crazy to believe that a week of work has already passed. I'm very conscious of the fact that we only have a month remaining before the programme finishes so I'm trying to make the absolute most of my time here in China and gain as much out of my internship as possible.
The Weekend
After a tiring week of work, I spent most of the weekend resting. On Sunday I finally visited the Llama temple near Yonganli. Seeing many Chinese burning incense, praying and making offerings to the many Buddhas and shrines was a much welcomed and tranquil scene, especially when compared to the bustling city that surrounds it. The weekend passed just as quickly as the work week but I don't have Sunday blues or dread for Monday morning. In fact, after spending the week getting use to my new work environment, I'm very much looking forward to getting back into the office and assisting on more projects and gaining even more invaluable experience.
I'm so incredibly thankful to the IUA and CEAIE for granting me this scholarship as securing an internship at a Chinese company is something that will most definitely broaden my horizons and make me more desirable in the job market. Not only that, but through this programme I've also made incredible memories friends for life!