Adam Creaven Blog Post - Week 3 (2019)
I was going to do a bit of a witty prelude to my blog, including a title with something along the lines of 'Marco Polo' as gaeilge, but Marco Polo in Irish is the exact same as English. Gave up after that. Nice try, Adam.
As it was the final week of the language learning part of the program, there was plenty of farewells, along with an extensive amount of studying and preparation for the HSK exam that was looming over the weekend…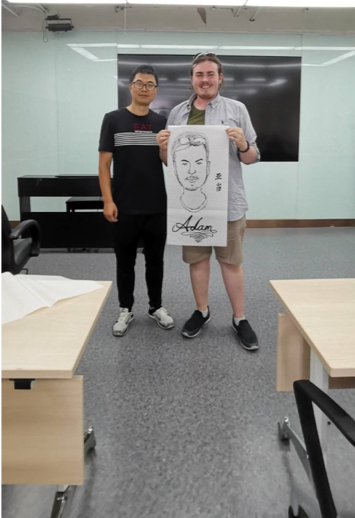 Monday
The week began the same as the last two; a language lesson with Wu Lan and Liang Wang. These two excellent teachers have gone above and beyond in their efforts to introduce us Irish students to the Chinese language, as we unfortunately weren't given the opportunity in our education system to learn such before. This is, however, beginning to change back home.
After the break following our class, we were fortunate to have Joshua, who introduced us to Chinese Calligraphy in our first week in Beijing, return and give us a taste of traditional Chinese painting. After showing to us some techniques with the brush, he let us loose to free our imagination onto the paper. He even painted a portrait of almost everyone there, with amazing results.
Tuesday
The day opened once more with language classes. What has only been three weeks feels months longer. How so much was effectively taught in such a short window of time will forever impress me.
Later in the afternoon, we were given the second part of a lecture by Wang Xingsong on Chinese Foreign Affairs and Policy. This covered a broad range of revealing topics concerning how China interacts with other countries, as well as the various departments within the Chinese government responsible for such interactions. We also touched on the increasingly controversial subject of US-Sino relations, which has been in the news quite frequently in recent times.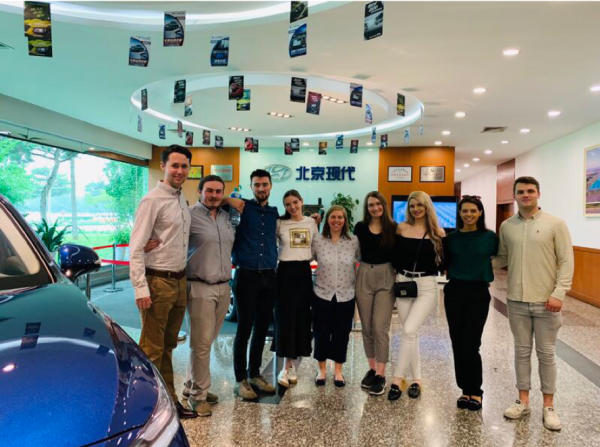 Wednesday
We started the day bright and early at about 8:30, and embarked on a busset for the Hyundai Automobile Factory near Beijing. A bit of a journey, but the immensity of the factory and its grounds were sufficient to silence our complaints.
We were greeted at the door and shown a short presentation, briefly detailing the various processes involved in the manufacturing of Hyundai's quality-proven cars and SUVs, from frame welding to chassis installation. Following this, we were given a limited tour of the assembly line, a colossal feat of not only Chinese, but human technology and engineering. Featuring many fully-autonomous sections, it was impressive to behold, even to those of us who are entirely unfamiliar with the automotive industry as a whole.
Having returned to campus, we attended a lecture on Chinese characters, given by Shi Jinger. We learned the origins of the Chinese writing system, how they developed over the course of 2 millennia, and their formation.
Thursday
Today was quite the marathon of learning. We had language classes from 8:30am to 5:10pm (with many breaks, of course). Having studied only German as a foreign language for my Leaving Certificate, Chinese hasn't been the easiest thing I've attempted to learn. But, through the efforts of our teachers, it wasn't the hardest either.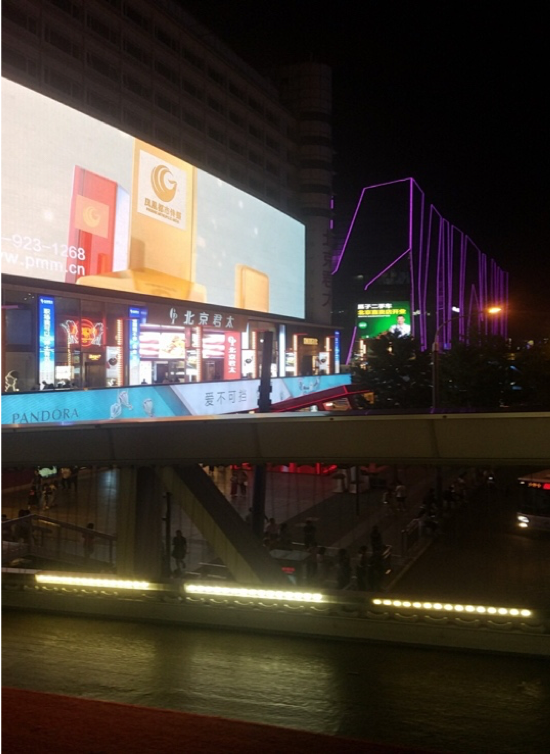 With the long stretch of classes behind us, we retired to our rooms for rest and study, in definite disproportionate amounts. Niamh and I decided to head off to the famed 'Joy City' shopping center.
It definitely deserves its reputation, because with eight floors of every kind of store, we were constantly getting lost. To further upscale the whole thing, it is surrounded by three other shopping centers. Wouldn't get this in Galway, I'll tell you that for nothing!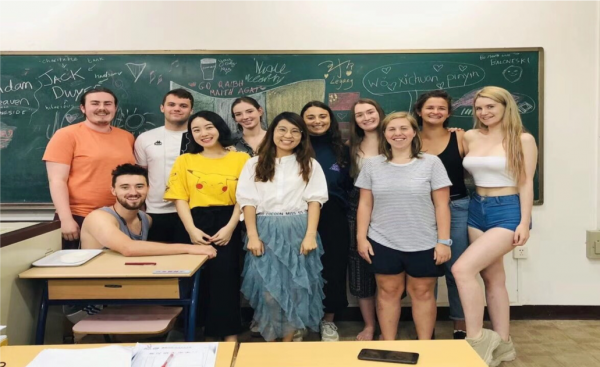 Friday
A bittersweet day, to be sure. With our morning class out of the way, we took a small test/quiz and had a bit of craic. We 'illuminated' the blackboard with both our names and the Irish flag, gave a bit of a musical performance and took some final photos with the teachers. They have been extremely good to us for the three weeks they've had us, and gave us the best introduction to language learning that I've ever received. Such was the quality of our education there, that most of us plan on continuing in some capacity upon our return to Ireland.
After the break, we headed off to the Confucius Institute E-Learning Centre, where we sat a mock of our HSK exam, in which we were content with our scores but were now aware of the degree of studying that was required for Sunday. We are all fairly confident in our abilities and look forward to finally passing the HSK and moving on the the second part of the program.
Saturday
Today was devoted, by everyone, to study. We decided that we'd have a day where we would take it easy and review the notes for the HSK tomorrow. Some R&R, preparation for our internships and plenty of coffee was involved. A whole lot of optimism too, for good measure.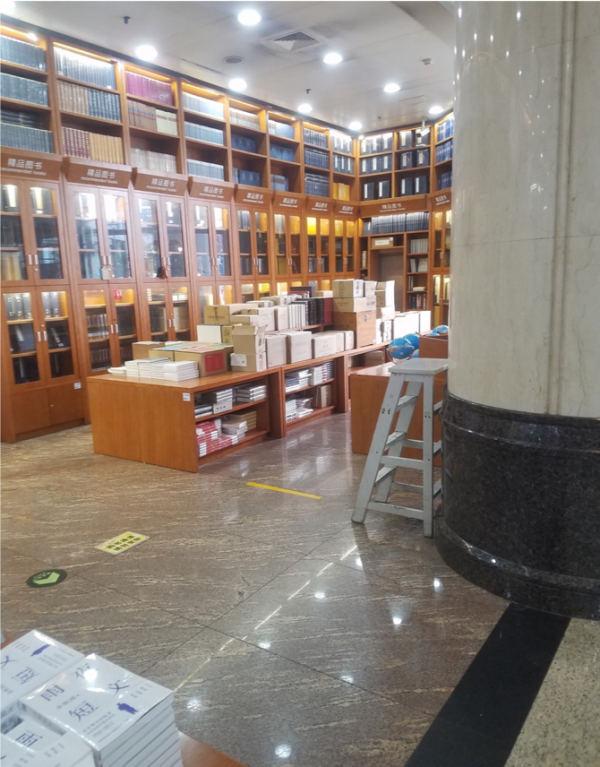 Sunday
Our HSK exam came and went. Of the eight of us doing the HSK 1, the beginner's entry level exam, we were all very happy with our performance. A trip to the Temple of Heaven was the way of celebrating for some, but a trip to the Wangfujing Book Store and shopping district was the remedy for the rest of us.