Monday:
This week we had our third and final week of Chinese classes. It's always a bit of readjustment waking yourself up early on a Monday morning, especially after a very active weekend. Nevertheless, we arrived in class at 8.30 with coffee in hand and ready to go again.
After lunch we had another installment of our Chinese cultural experience series, which this week was a workshop on traditional Chinese painting. The workshop introduced us to traditional Chinese painting styles, taking us through some of the more basic steps. We enjoyed this therapeutic class, a needed wind down from our busy schedule.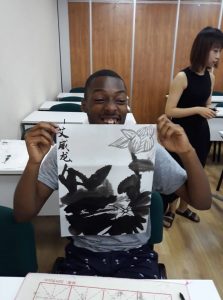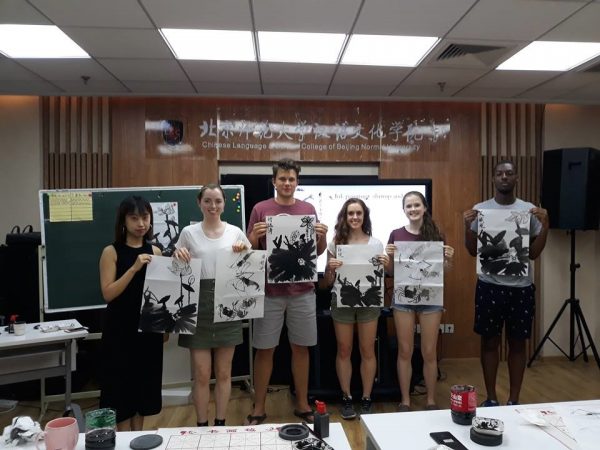 Tuesday:
After Chinese class on Tuesday, we had a lecture from Ma Ke, the same professor who gave us the talk last week on the economic situation in China. This week we were given a talk on the development and extension and brand management.  This talk was interesting as Ma took us through some of the theories associated with brand management and how China plans on developing more concrete brands, diverging from the "Made in China" labelling and investing time in more hi-tech brands and innovation. We learned a bit about China's now topical "One belt one road" system and the expansion of trade as well as Chinese expenditure and brand trends, loyalty and much more.
Wednesday:
Class on Wednesday morning was followed after lunch by our last Chinese cultural experience. This was a lecture given by Wang Zhenzhu who talked to us about cultural trends such as fashion and the shared bicycle schemes in place here in China (which we are making great use of). In three weeks I already feel like I have learned so much about life in China and it's interesting to directly experience what we learn, outside of the classroom.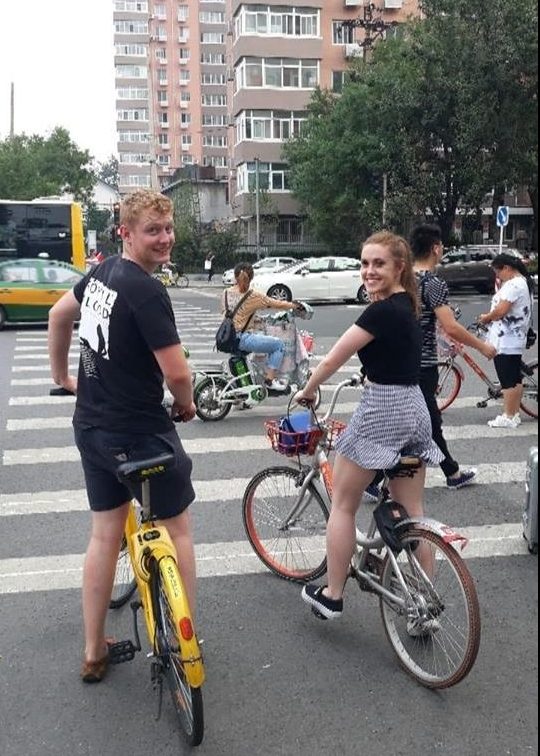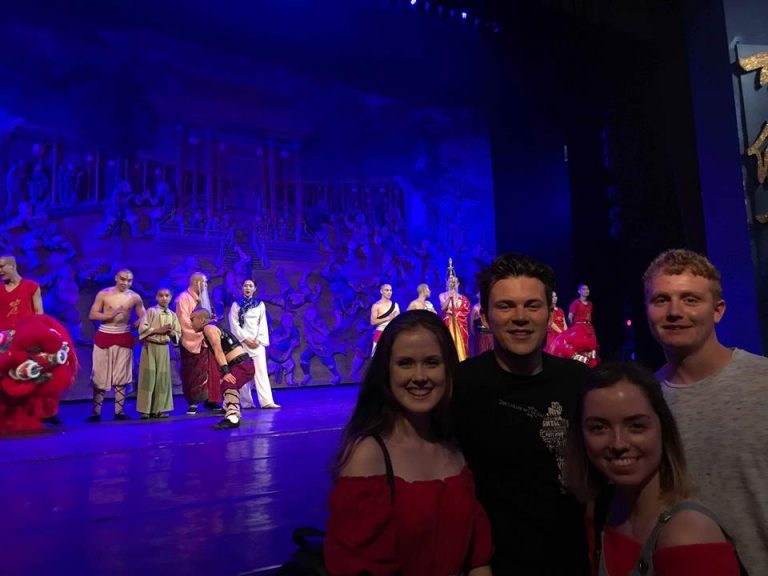 In the evening we set down to the East gate where we eagerly awaited a coach with other international students. We set off to our destination in rush hour traffic. In a city of almost 23 million inhabitants you can probably guess this was not a very enjoyable experience. However, the 2-hour crawl through Beijing's traffic was well worth it when we arrived at Beijing's "Red Theatre" for a truly amazing spectacle "The Legend of Kung Fu".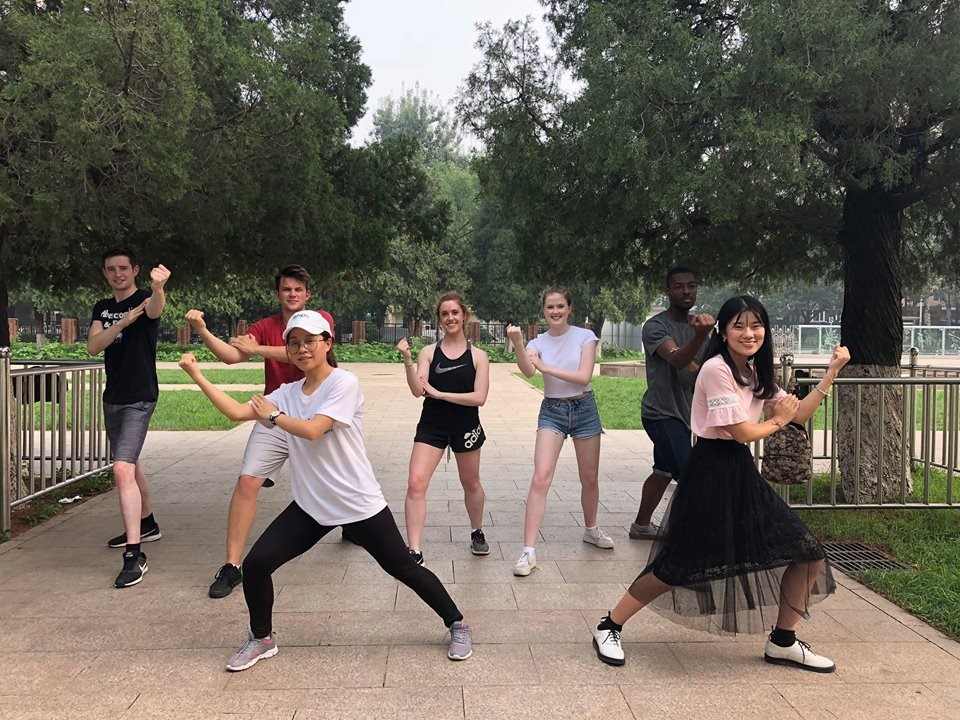 Going to see a Kung Fu demonstration was high on my list of things to see and do while in China and this theatrical performance which involved a lot of Kung Fu exceeded any expectations I may have had. This show was definitely a highlight so far and was everything you could hope for from a martial arts demonstration. We had front row seats and 5 feet away from us the performers were chopping bricks in half with their bare hands and smashing iron bars off their heads. Ow…? At one point one of the performers lay down on a plate of long nails, had another plate of nails laid on his stomach, upon which another performer proceeded to lay down bricks and smash them to pieces with brute force. This Kung Fu spectacle was brilliant, fast paced and insanely thrilling to watch.
Thursday:
On Thursday we were all delighted to get a half day. Since it had been raining non-stop all week, so we knew we had to get off campus for a while. We collectively decided to go to a shopping centre not too far away called Joy City. We all wanted to get something small to present the teachers with on Friday as a token for their hard-work and dedication to us over the past 3 weeks. On arriving to the colossal, 7 story shopping centre we got pizza which ended up being over priced tasted pretty strange. Top tip in China: Eat Chinese food! Will also purchased a mask to fight against the poor air quality in Beijing.
Friday:  
On Friday morning we had our last Chinese language class. This ended earlier than usual at 11.30 after our final practice test. We presented the teachers with gifts and in turn received gifts from Wang Laoshi. The teachers both put so much effort into ensuring, not only that we succeed in the HSK level 1 test but also to our survival here in China.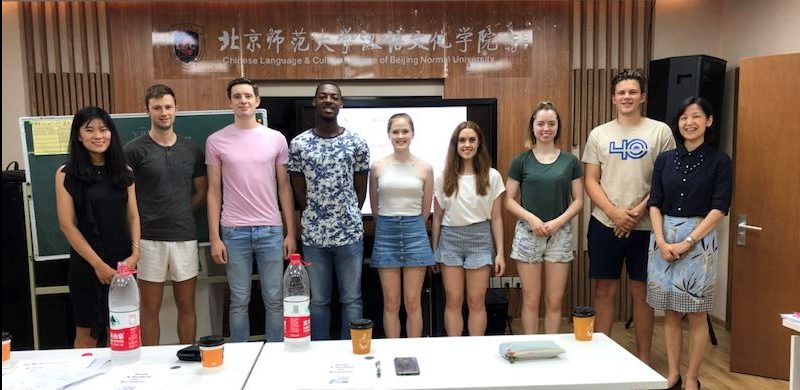 As a group we are grateful to them for their time and what they've thought us. We can now order food, ask where we are and get our way around Beijing with little difficulty thanks to them. They are a testament to BNU's reputation of excellence in teaching.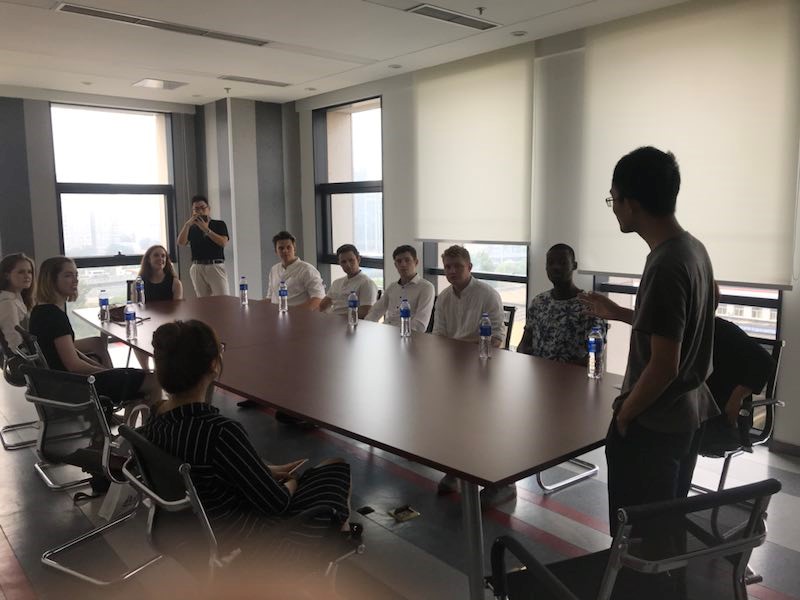 After lunch we arrived down at the East Gate of the university where we were whisked off on our final business visit to "Beijing Business Incubation Park for University Students." This is a government owned company that houses many start up and growing businesses employing university students. We were guided around the buildings 6th and 8th floors by a BNU masters student who showed us various companies in the building. We were brought for tea in the canteen before leaving the impressively designed building to return to BNU. This company visit was stimulating for all of us and it was inspiring to see how these companies were growing and employing university students like ourselves.
In the evening we decided last minute to go visit Beihai park. We went around 7.30pm so we didn't have much daylight left but walking around China's oldest royal gardens at dusk was incredible.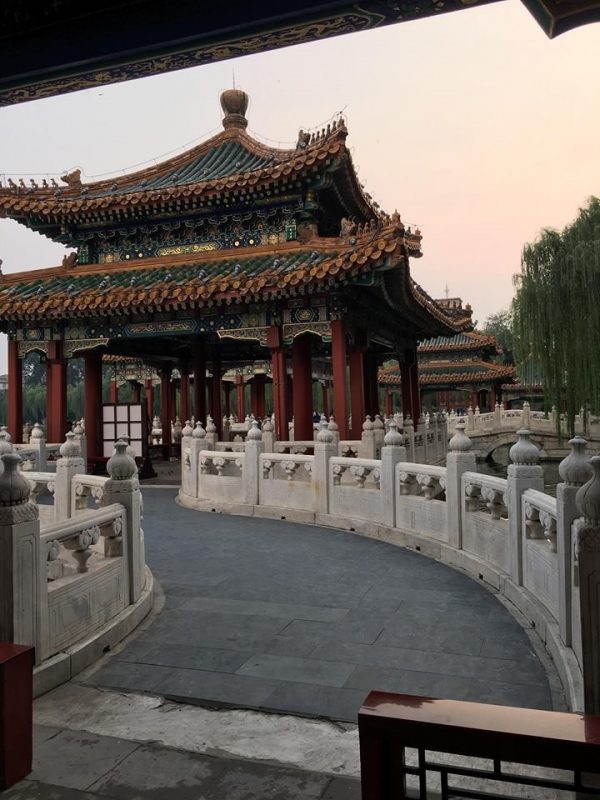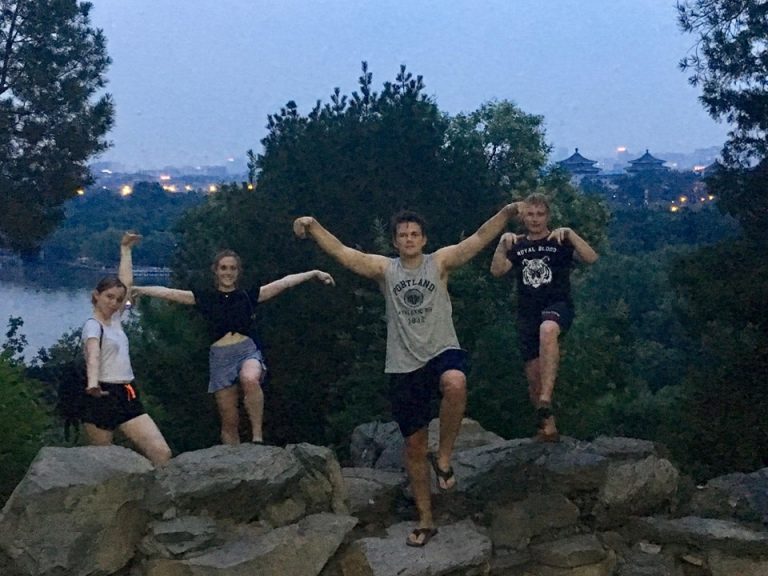 The park is huge, and we really enjoyed our walk about taking in views over the whole city. In such a hectic city this park was an unexpected retreat and gave us all a breather as we were surrounded by temples and nature. We were surprised when we heard the chanting prayer of monks as the sky darkened around us, a standout moment for us all so far. This gave us a real feeling of Chinese natural beauty and cultural richness that can sometimes be swallowed up or go unnoticed in capital cities. We were very impressed by the park and will be back numerous times before the end of our placement without a doubt.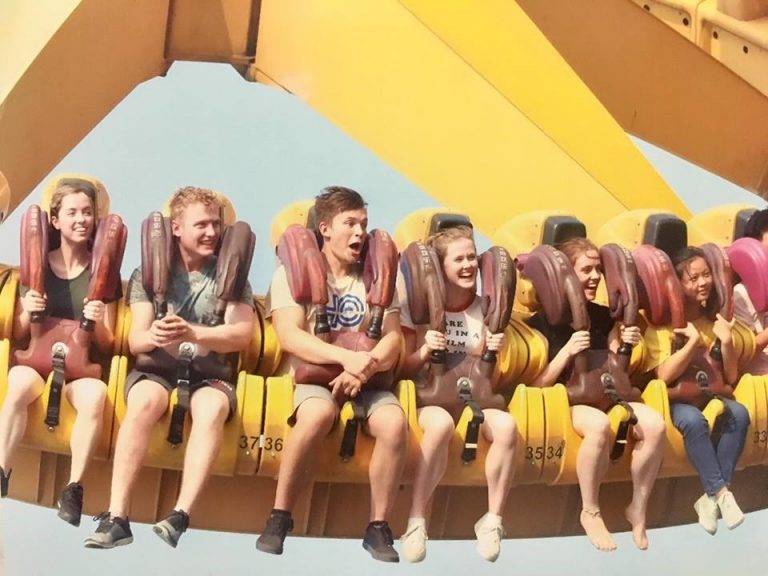 Saturday:
At 9am we sat the dreaded HSK, only there was no dread involved. Everyone was happy with how the exam went thanks to the teachers who had us well drilled and ready. Chuffed to have finished with the exam we set our sights to Happy Valley, a theme park in the outskirts of Beijing that Finn visited last year and told us we'd enjoy. Enjoy it we did despite the 37-degree furnace we were walking around in swimming in our own sweat. Anna rode her first rollercoaster and Will conquered her fear of high speed rollercoasters. We thoroughly enjoyed the day hurtling around the Beijing skyline. On returning to the dorms, we showered and rested briefly before heading into Paddy Ó'Shea's, an Irish bar (you don't say?) to catch the Donegal-Roscommon match and Pauric was happy with Donegal's 0-20 to 0-13 win.
Sunday:
Sunday was easy. We had our first lie in of the 3 weeks and most of us took it handy as a day to relax and catch up with family at home. I took is as a day to write this blog in reflection of the past week, and what a week it has been. We are all waiting now to start with our internships tomorrow and are all hoping for the best. My main concern is getting there in the morning and not arriving TOO sweaty for my first day.
All in all, I believe we've all had a very positive experience so far. We are all naturally apprehensive about the work placements this coming week. I am very grateful to the IUA, CEAIE and the University of Limerick, for providing me with this incredible opportunity and I look forward to what the next five weeks have in store for us.