Monday the 13th of August marked the beginning of our fourth week of working in Beijing, and our seventh week living in China overall. My internship is with the industrial design education department of Art Creativity Global (ACG), an art institute that provides masterclasses, workshops and one to one tutoring for students in a wide range of disciplines. The offices are located in the central business district of Beijing, very close to architectural marvel that is CCTV headquarters, along with many other impressive skyscrapers.
Working in Art Creativity Global
I take the subway to work every morning and usually get a coffee before heading in to start my day as assistant teacher to the industrial design teachers. All the students I'm helping are applying for courses abroad so thankfully they all have a high level of English proficiency. I help the students with writing their college applications, model making and give them any extra tips and advice I can provide. Everybody has been very welcoming to me and are extremely passionate about design. The students especially are very intrigued by me and are always interested in talking, whether it be about design, helping me to navigate Beijing, society, travel or culture. As a result, we have never had a dull class.
I have an hour for lunch and for this the other teachers have brought me to restaurants and coffee shops nearby to give me a taste for the popular cuisine. This has been extremely helpful for multiple reasons. Firstly, to learn more about the people I work with and about China, but it also eliminates the problem of trying to find a restaurant that has a picture menu, and still accepts cash instead of WeChat as a form of payment. Since the menu is usually entirely in Chinese they sometimes read the menu out for me and other times they leave my food a surprise, but thankfully I have never been disappointed with the food I have received.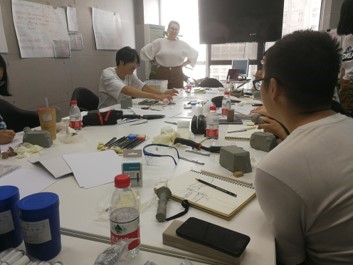 This week industrial design professor Leslie Fontana of Rhode Island School of Design (RISD) has been running a workshop in ACG and I was lucky enough to talk with her and attend her classes. Professor Fontana is a very cheerful and friendly woman and I was delighted to have the opportunity to learn from someone as well respected within the profession as she is.
Exploring Inner Mongolia
Over the weekend Finn, Oisín and I travelled to Inner Mongolia with a company called CETtrip. We left our accommodation groggily at 04:15 Friday morning to catch our eight-hour bus journey north. I slept almost the entire way, so the journey was very painless and when we arrived we were stunned by the beauty of the Inner Mongolian grasslands. The landscape here is completely flat and green, giving the illusion of an endless blue sky that was speckled with light, feathery clouds. As we stepped off the bus, we relished our first few moments of breathing unpolluted air since coming to China.
We had a classic Chinese lunch which included many dishes such as scrambled egg with tomato, tofu skin, and potato, that are to be shared between the table. Once lunch was over we dropped our bags into our yurts and made our way to the stable. Here we spent the day riding horseback through the grasslands and were given a taste of traditional sour Mongolian milk tea.
That evening we were given a dinner that consisted of exactly the same dishes we had eaten for lunch which we were not very excited about. However, Friday the 17th happens to be Chinese Valentine's Day (The Qixi Festival) and as we ate a re-enactment of a Mongolian wedding was performed, in which two couples were to be married and all involved were in full traditional dress. As part of the eating ceremony, three goats were presented to the couples who seemingly blessed them with baijiu (a Chinese spirit) while we were treated to a traditional Mongolian throat singing performance. The wedding ceremony was completely bizarre to watch as foreigners, but immensely entertaining overall.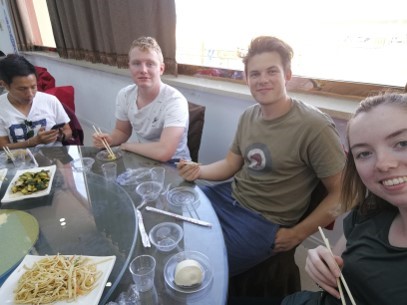 Once dinner ended we moved to the fields to watch the sunset. The heat of the day had died and the horses galloped around in front of us, illuminated by the bright terracotta sky. It was the most spectacular sunset I had ever seen. The sun had not set for long before the sky was again illuminated, this time with fireworks exploding in every colour around a large bonfire where everybody had gathered. That night we danced, drank beer and sang, both the Mongolians and tourists together, until the early hours of the morning.
Saturday morning, we left the grasslands early in the direction of the Kubiqi Desert. We stopped for what was a very unsanitary lunch and bathroom break in which I avoided eating as much as I could, before arriving in the desert. A chair lift carried us in twos to a central point of the desert where a large area had been set up with multiple different activities. We first were brought to ride camels which I was excited about because I had never seen a real camel before. Our camel ride was very interesting, and everybody seemed to enjoy it however, the conditions the camels were being kept in were poor which a lot of us found very unsettling. What was particularly distressing was the camels were strung together with a piercing through each of their noses, that forced them to move together when the lead camel was pulled. A lot of parts of Asia are working on improving their animal rights laws but unfortunately in some places they still have far to come.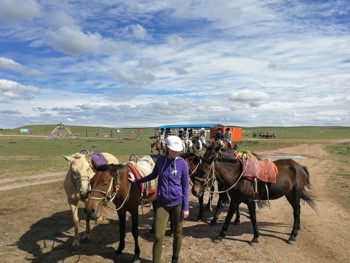 We got to enjoy other activities in the desert which included a zipline, sand sliding, and quad biking. The quad biking was the most thrilling experience, and the favourite overall. Each of the driver's speed over sand dunes and down valleys with one passenger on the back, who at some points would be lifted off their seat entirely with the force. I screamed intensely during my turn and was honestly surprised when we arrived back to the starting position still alive. The quad bike experience was open to people of all ages and included no safety briefing or helmet.
By the time we were finishing up the sun was setting, and we took some time to admire the beautiful landscape before heading back to the bus to go for dinner. We stayed in a hotel in Hohhot, Inner Mongolia's capital City, and again were up early the next morning. This time to go to the museum and then for a "hotpot" lunch. A cauldron of water was boiled in the centre of each table, and different foods were left to the side for us to empty into the cauldron to cook. This was the most enjoyable meal of the trip because the food was better quality and by then we had all gotten to know each other a lot better.
I was disappointed to be finally getting on the bus to go back to Beijing, because the trip was truly a once in a lifetime experience that I will never forget. The journey home ended up taking an excessive twelve hours, but we played games, and Oisín, Finn, and I treated the bus to a rendition of "Molly Malone" and Steve Earle's "Galway Girl" over the microphone to help lighten the mood.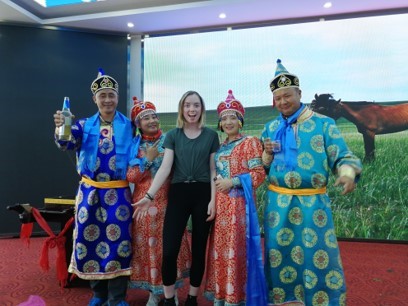 My time in China overall
My time in China has not been without its low points but overall has been overwhelmingly positive. I enjoyed our time learning Chinese even though it was very challenging. I love my work placement, the trips I've taken, and the people I have met through them. This experience has taught me so many new things, about myself and about the world that are invaluable and for which I feel truly privileged. It is definitely an experience that not only do I get to enjoy now, but that I can take with me for the rest of my life.